When it comes to the Chicago Bulls and free agency, their reputation isn't exactly stellar.
In recent memory, the best signing they made in free agency was signing a 34 year old Pau Gasol during the 2014 off-season. He would go on to average 17.6 points per game, and 11.4 rebounds a game during his time with the team, and shot roughly 38% from three point territory. It was actually a pretty damn good signing and provided the Bulls with an additional big who could actually shoot from outside.
This came after a failed attempt to lure Carmelo Anthony to the team that same off season, when Carmelo Anthony allegedly asked to see Derrick Rose "work out" as a condition to him considering joining the team.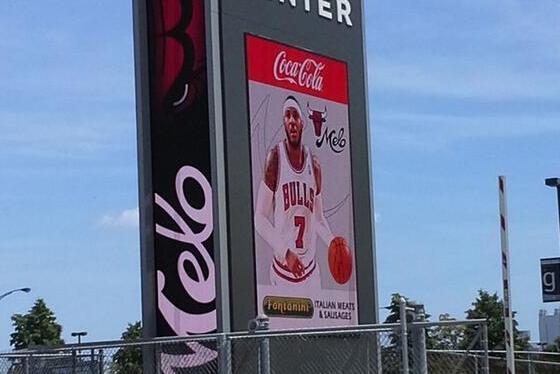 The general mantra of "Fuck GarPax" (or Fire GarPax, depending on how mad you are) has existed since around 2016 when the team decided to, for Lord knows what reason, sign Dwyane Wade for 2 years at $49 million. This was obviously a total train-wreck as the team failed to gel. Who would have guessed that having a spacing nightmare at point guard (Rajon Rondo), shooting guard (Dwyane Wade) and small forward (Jimmy Butler) would have not worked out? Because when I think of winning basketball, I think of a team that shoots attempts roughly 22 three point shots a game (29th in the league in the 2016-17 season) and trades away their defensive anchor and local hero Taj Gibson to Oklahoma City for literally nothing of value.
This miserable team somehow got into the playoffs and was knocked out in the first round by the Boston Celtics, signaling that it was time to rebuild the team. I will always view this moment as being magical in Bulls history, as the team finally was ready to recognize that their Frankenstein-ed rosters of a out of their prime players wasn't going to cut it. Jimmy Butler would be moved in the 2017 offseason to the Minnesota Timberwolves to be reunited with Tom Thibodeau. In return the Bulls received Kris Dunn, Zach LaVine, and the most important piece of the trade: the seventh overall pick in the 2017 NBA Draft. The Bulls would go on to take Lauri Markkanen, who continues to show amazing potential for the team.
The following year they would draft with the seventh pick (again, this will become a theme..) Wendell Carter Jr, who looks to be a defensive force at center. During the 2019 season, the front office decided to trade Bobby Portis and Jabari Parker (another useless signing, but at the time it was plausible to think he could step up to be a competent starter) for Otto Porter Jr.
Addressing their need for a better point guard, GarPax drafted Coby White with the seventh (!!) pick in the 2019 NBA Draft. While I have some concerns about how he's going to pan out, he's effective in being able to create his own shot and is outstanding in transition.
As it now stands, the Chicago Bulls have a relatively good starting five that can probably hang with some of the better teams during the regular season:
Point Guard: Coby White
Shooting Guard: Zach LaVine
Small Forward: Otto Porter Jr
Power Forward: Lauri Markkanen
Center: Wendell Carter Jr.
The bench for the Bulls left quite a bit to be desired. It was expected Robin Lopez was to leave (which he ultimately did, now reunited with his brother Brook in Milwaukee), and the rest of the bench are not terribly established players in the NBA. Good for finding potential talent, bad for leadership, which a young team really needs. In addition, the team needed to add additional depth essentially everywhere on their roster, but especially at the 4 and 5 position.
And GarPax really delivered. The team signed the following free agents in the offseason (thus far, as of the FOURTH OF JULY):
Thaddeus Young – PF
2018-19 season stats: 12.6 points per game, 6.5 rebounds on 52.7 percent shooting , 34.9 from three. 
Thaddeus Young has been a player that I have loved for years in the NBA, going so far as to be pissed off when the Minnesota Timberwolves moved him to bring Kevin Garnett back. A hot take? Yes. Justified? Not really. Anyway, Thad Young is a proven veteran player who is outstanding on defense and ultimately a huge plus as a locker room presence. Already he's showed signs of being positive towards the team when he defended the decision to trust GarPax and sign with the team:
You love to see it. Beyond this leadership role, he will be an outstanding player out on the court primarily on the defensive end, where he's shown to be a more than capable defender.
Tomas Satoransky – PG/SG/(sometimes)SF
2018-19 season stats: 8.9 points per game, 5.0 assists per game on 48.5 percent shooting and 39.5 percent from three.
Literally the best possible outcome for the Bulls landing a free agent back up point guard. Satoransky has outstanding height for the guard position at 6 foot 7 inches. In addition, he has gotten plenty of time starting at the point guard in Washington in stretches where John Wall was injured and unable to play. Of the 80 games he played last year in Washington, he started 54 of them and was a consistent threat on the court with outstanding play making abilities. His game isn't terribly flashy, but he gets the job done well and ideally can be a core piece moving forward. There is speculation he could very well start at point guard, but he's only indicated thus far that he is content with any role he can have with the team. I look forward to him getting a solid amount of minutes each game and being a productive and positive influence on our young core. An article from The Ringer shows how Satoransky was a huge glue piece for a Wizards locker room that was frequently in turmoil.
Luke Kornet – PF/C
2018-19 season stats: 7.0 points per game, 2.9 rebounds per game on 37.8 percent shooting and 36.3 percent from three.
A bit of an unknown to some NBA fans, Luke Kornet was the backup center for the New York Knicks at varying points during the 2018-19 season (only playing a total of 26 games). He certainly fits into the mold of what you want out of a modern NBA center in being able to shoot threes, but I can't imagine he's going to develop into any sort of spectacular piece DESPITE the fact he did drop 24 points on the bulls, including 5 three pointers. He'll fit in well as a backup big for the team, filing out the bench along with Thad Young, Daniel Gafford, and sigh Cristiano Felicio.
Do the Bulls go far in their 2019-20 campaign? Probably not. Maybe the additional leadership, further growth of our core players, and a BIT of luck will result in them flirting with a 7th or 8th seed and first round exit in the playoffs. But that's okay. It's progress and it's clear they have direction finally.